Management Policy
We at MOS FOOD SERVICES,INC. have established a philosophy system consisting of four parts: our Management Philosophy of "Contribution to Humanity, Contribution to Society", Founding Spirit, our Basic Policy, and our Management Vision. These four parts make up both the values we hold as a company as well as the "MOS Spirit" ideals that each and every member of MOS Group holds so dearly.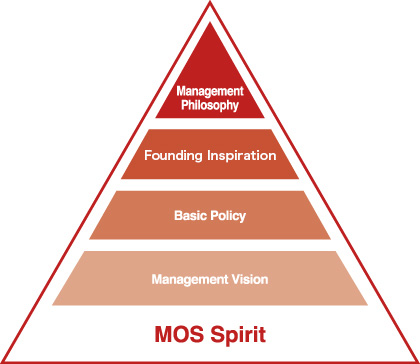 Management Philosophy (The Reason We Exist)
Our Management Philosophy, "Contribution to Humanity, Contribution to Society", carries with it the meaning that we shall "contribute to society by forming deep connections with customers and communities and providing sincere service." The meaning also extends to all stakeholders in the future as well.
Founding Spirit (Our Aspirations and Feelings)
"If I'm going to work, I want to do work that is appreciated." This strong commitment made by our founder, Satoshi Sakurada, makes up the Founding Spirit of MOS FOOD SERVICES,INC. and is Starting Point of our aspirations and feelings. These words, which have been passed down since the establishment of the company in 1972, continue to provide support to our Management Philosophy of "Contribution to Humanity, Contribution to Society" and serve as the source of all our thoughts and actions.
Basic Policy (Our Ideal Form)
The Basic Policy established by our founder, Satoshi Sakurada, is a guideline for clarifying what we should be in order to realize the aims of our Management Philosophy. Through true implementation of this Basic Policy, we can achieve customer satisfaction. Furthermore, the hope that we will continue to effort the drive to perform our work every day is contained in this phrase.
Management Vision (The Goals We Aspire To)
People are happiest when they are eating delicious food. It is MOS BURGER's job to reproduce our customers' vitality, energy, and spirit of life. Through this kind of meal-related work, we can bring happiness not only to the people of Japan but to people around the world, and someday the day will come when people across the globe will say, "Oh, MOS BURGER is a Japanese brand!"
Sustainability Management Policy
Since its founding, MOS Group has been focusing its efforts on business operations that take factors such as the environment, health, and local communities into consideration, guideline our "MOS Spirit" philosophy system. MOS Group's greatest strength is its strong value chain that creates value together with Our stakeholders. In recent years, interest in corporate ESG (Environmental, Social, and Governance) efforts has been growing around the world. In particular, the SDGs (Sustainable Development Goals) adopted by the United Nations Summit in 2015 aim to achieve global sustainability that extends beyond the corporate frameworks, which requires even greater efforts and responsibility from corporations.
Within MOS Group as well, we will continue to be a sustainable company by re-evaluating our efforts thus far in light of the demands of society, and also working to create new value through out business activities by improving and enhancing the quality of our management.